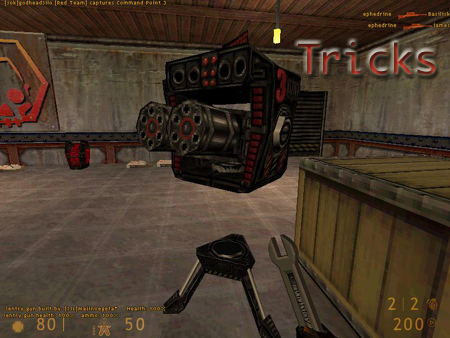 ---
*Saiya-Jin Legends' Tricks page*
NOTE: DUE TO THE NEW PATCH... ONE OF THE THINGS THAT WERE FIXED WAS, THE MOVING CORPSE THING... SO NO MORE MOVING CORPSE. THAT TRICK WILL BE DEARLY MISSED...
The Floating Sentry Gun Trick: First make a Dispenser, second build a Sentry Gun on top of the Dispenser ( note: this is a bit tricky at first ), now detonate your Dispenser. Now you should see a Sentry Gun such as the image above. -Thanks to *SSJ*Goku of SJN.
The Hunted, best snipin' places: In the map The Hunted, did you know there are a couple of nice sniping places. For this to work you would need a fellow sniper and he/she must shoot you into it. Hint: most of the nice secret sniping places are located around the yard, so just use your keen sense to find it. Exapmle: You can actually shoot someone into one of the twin towers roof. -Thanks to *SSJ*Goku of SJN.
Conc. Jump: This trick makes the Scout and Medic of TFC jump, but with a boost, making them jump to a longer and or higher distance. This trick is a bit tricky at first so practice it. You first trow a Conc. Grenade to the floor and get infront of it or on top of it. Priming the grenade will help. The second it blows up, you then should do a forward jump. If done correctly, you should be launched across or above of the area you before. This trick is good for escaping Sentry Guns and catapaulting yourself into the enemies battlments etc. This comes in very handy and you can avoid being in a crossfire by doing this. -Thanks to The Walking Dead of TF.
Bullet Rider: This trick is very useful and funny. You will need a Sniper for this job and someone to ride The Bullet(only lightweight classes are do-able, as heavier classes will just end up a few feet towards you). First have the Bullet Rider get on top of the Sniper of right infront of him/her. This takes accuracy as you catapault the rider into a certain area. Have the Sniper aim high( about the chest or so ), then fire away. The force of the sniper's rifle will force the lightweight class to be catapaulted across the screen, besides getting blown to pieces like the enemy. -Submited by me, MajinVegeta, Leader and founder of SJL.
*MORE TO COME SOON*